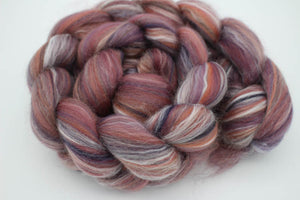 Afternoon Tea (Cashmere and Pearl!) custom blended top
Regular price $35.00 Sale
Suitable for the pickiest of princesses, this luxury blend has merino, cashmere, and pearl fiber.  
Merino 62.55%
Cashmere 25%
Pearl Fiber 12.5%

About pearl fiber:
A very new Biodegradable cellulose fiber which is infused with precious pearl powder which contains natural amino acids and trace elements. It is a very soft and lustrous fiber.
The fiber gives a natural smooth and cooling feeling with great moisture absorption
Ultraviolet protection function –The fiber has an Ultraviolet protection factor greater than 30
The fiber is a natural UVA protector, Pearl fiber has a fantastic drapability
Sold in 4oz increments
Standard Disclaimers: Fiber is processed in a non-smoking home that is pet friendly. All efforts have been made to accurately capture the colors of the fiber, however monitors and settings may vary. Please wash using cold water.