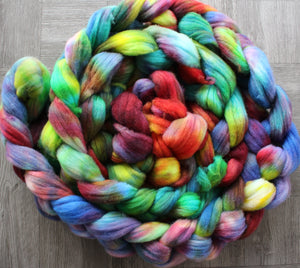 Cormo top: Somewhere Tropical -- broken
Regular price $24.00 Sale
I broke this one while braiding it.  The fiber is fine, but I don't like selling fiber in 2 pieces for full price.
4oz hand dyed 
100% small mill Cormo
colorway: Somewhere Tropical
Our small mill Cormo is from an eco-friendly family run mill that responsibly sources their wool from local family run ranches.  This wool is produced with an eye towards sustainability and the goal of revitalizing the American wool industry through eco-friendly practices and paying a fair price throughout the process.
Standard Disclaimers: Fiber is processed in a non-smoking home that is pet friendly. All efforts have been made to accurately capture the colors of the fiber, however monitors and settings may vary. Fiber is thoroughly rinsed to remove all excess dye, but as with all hand dyed products there may be some minor bleeding. Please wash using cold water.