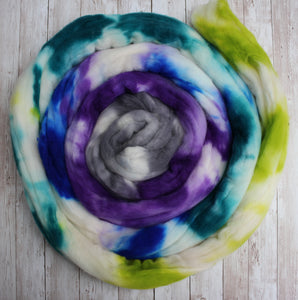 Dragon Scale Minimus
Regular price $24.00 Sale
GLASG 2022 Spin Along
4oz fiber put ups
This year we've got 2 colorways, 2 styles, and 3 fiber choices.  
Fiber options are 100% Polwarth, a 72% Polwarth/14% Mulberry Silk/ 14% Rose blend, and Funfetti (70% South American wool / 17.5% Viscose / 12.5% Firestar).  
These items are dye to order and will not ship ASAP.
Standard Disclaimers: Fiber is processed in a non-smoking home that is pet friendly. All efforts have been made to accurately capture the colors of the fiber, however monitors and settings may vary. Fiber is thoroughly rinsed to remove all excess dye, but as with all hand dyed products there may be some minor bleeding. Please wash using cold water.