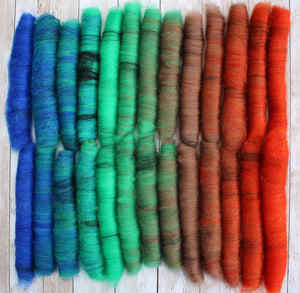 My Reservations Are All I Have Left Rolags 4oz
Regular price $32.00 Sale
4 oz gradient rolags made from hand dyed superfine merino, firestar, and a pinch of silk.  Cobalt to tangerine by way of grass and earth.  Medium amount of sparkle.  Smooth rolags.  The 4oz is evenly divided among 13 colors and each rolag is roughly the same weight, some might look a little longer than others because I am not a robot.  I'm absurdly ridiculous about weighing out the fiber so that percentages and weight per color are correct.
80% Merino
20% Firestar
Pinch of black tussah silk
Standard Disclaimers: Fiber is processed in a non-smoking home that is pet friendly. All efforts have been made to accurately capture the colors of the fiber, however monitors and settings may vary. Fiber is thoroughly rinsed to remove all excess dye, but as with all hand dyed products there may be some minor bleeding. Please wash using cold water.