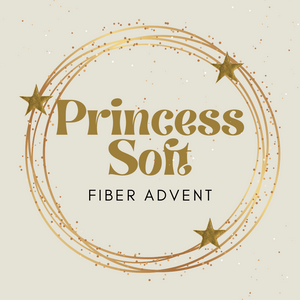 Princess Soft Fiber Advent
Regular price $225.00 Sale
Do you love princess soft wools?  This fiber advent is full of princess approved wools like superfine Merino, Rambouillet, and Polwarth.  You will get a pound and a half of princess soft hand dyed fiber, Wise Owl Furniture Salve to treat your wheel, artisanal items to pamper yourself, and fiber arts accoutrements.  Everything is individually hand wrapped because this is a treat.  The advent is meant to be for the 2 weeks leading up to St. Distaff's day and includes a 4oz braid for day 1, twelve 1oz braids for days 2-13, a 4oz braid for day 14, and an additional 4oz braid for the winter holiday of your choice.  Packages will ship the last week of November.  This spinning package includes free world wide shipping because you deserve it.  
Once you purchase this package I will reach out to you with some questions so I can customize your package just for you. 
Double Dose has twice the fiber for each day for a total of 3lbs of fiber. 
Due to the bespoke nature of this package I am limiting the sales to a very small quantity.  Don't miss out!
Standard Disclaimers: Fiber is processed in a non-smoking home that is pet friendly. All efforts have been made to accurately capture the colors of the fiber, however monitors and settings may vary. Fiber is thoroughly rinsed to remove all excess dye, but as with all hand dyed products there may be some minor bleeding. Please wash using cold water.