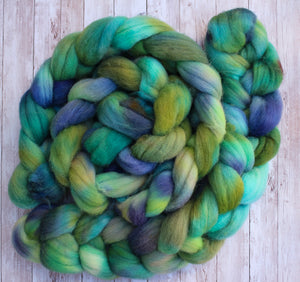 Radnor 201219-1
Regular price $12.00 Sale
100% Welsh Radnor
4oz put-ups
Radnor is a conservation breed that I had never heard of.  It is a relatively rare breed from an isolated rural area.  There's not a lot of written history to be found on it even though it has been around for centuries.  Radnor is a lot of fun to spin and gives you a yarn with a lot of body.  It has a long staple of 4+" and a disorganized crimp.  Micron count is high 20s to low 30s.  I wouldn't wear this next to skin, but I'm a princess.  It would be great for outerwear and non-clothing uses. This is a really fun and easy spin and would work for a beginner.
This is part of the Free Flow series.  Free Flows are a little bit wild and chaotic, dyed in small batches and non-repeatable.  They are an experimentation in color and process that I really need right now.
Standard Disclaimers: Fiber is processed in a non-smoking home that is pet friendly. All efforts have been made to accurately capture the colors of the fiber, however monitors and settings may vary. Fiber is thoroughly rinsed to remove all excess dye, but as with all hand dyed products there may be some minor bleeding. Please wash using cold water.