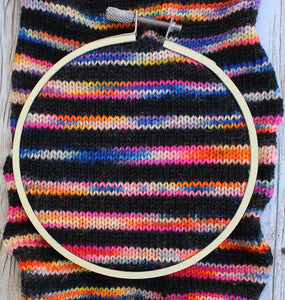 Zebra in a Paint Factory mini-stripe sock yarn --Dye to Order
Regular price $28.00 Sale
This yarn is dyed to order. It is SW BFL & nylon, but the nylon is firestar, because you know my motto is if you're gonna add nylon you might as well add a little shimmer.
Yarn ships as a hank.  The picture is of a swatch to demonstrate the striping, not a blank.  
~400m/100g
80% SW BFL/20% Firestar
Light Fingering
Standard Disclaimers: Fiber is processed in a non-smoking home that is pet friendly. All efforts have been made to accurately capture the colors of the fiber, however monitors and settings may vary. Fiber is thoroughly rinsed to remove all excess dye, but as with all hand dyed products there may be some minor bleeding. Please wash using cold water.